Old Czech Legends
It's been made in 1953 by
Jiří Trnka
, with whose work some of you may be familiar. He was a brilliant illustrator and a stop motion animator.
Wikipedia article about Trnka
IMDB entry on Old Czech Legends
I have a strong memory of this film. I especially remember this one scene which I put up on Youtube, for you to watch. :)
http://www.youtube.com/watch?v=jgZWSQ8EwEE
Read the description if you want to know what's going on. I'll just tell you it's epic and sad. Trnka made a battle scene with puppets, and it's not silly, it looks amazing. The warriors are wearing very plausible (yet stylized) gear - the battle is a legendary version of a real conflict from the early 10th century.
I clearly remember being confused and sad as a kid, watching Čestmír fall, struck with all the arrows. And I remember the eyes of the Lučan slave. The scary, freaky eyes. Watching it now though, the way he finds his fallen master in the end, that's another kind of sad. :(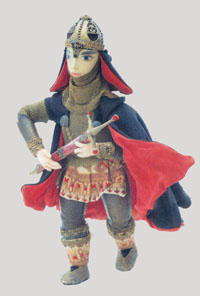 What else? Watch the video, tell me what you think. If you feel like it. ;)